Scott R. Williams, MAI, SRA
Appraiser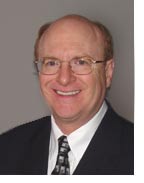 Scott Williams, President of Scott Williams Appraisal Inc., founded the firm in 1972. During his long career, he has appraised all types of property typically found in central and north central Wisconsin. He currently specializes primarily in appraisals for condemnation and litigation as well as appraisals of complex, unusual, or special purpose properties. Community activities include serving for seven years on the Wausau School Board.
---
Phone: 715-842-3311 Ext. 302
Fax: 715-848-1123
Email: scott@scottwilliamsappraisal.com


Professional Activities

Appraisal Institute. Past president of North Central Wisconsin Chapter and also of Northwest Wisconsin Chapter.

Wisconsin Appraisers Coalition. One of the founders and elected Chair at 1st meeting. One of the authors of Wisconsin Chapter 458 (appraiser certification).

Wisconsin Real Estate Appraisers Board. Appointed by Governor Thompson when the board was created under Wisconsin Chapter 458 (appraiser certification). Elected Chair at 1st meeting of the board. Served as Chair for three years.

Appraiser Qualifications Board of The Appraisal Foundation. 1995 - 2000. Served as Chair for two years. This five member board is empowered by Congress to set minimum qualifications states must meet for residential and general certified real estate appraisers.

Central Wisconsin Board of Realtors

Publications & Articles

Problems with Percentage Adjustments
Disclosing an Appraisal's Limitations
Setting Up a Word Processing System
Disclosing an Appraisal's Limitations: An Update

Reviews

The Appraiser's Workbook
Craftsman Building Cost Manual
Business Valuation Manual

All of the above articles and book reviews were published in the Real Estate Appraiser and Analyst which is the journal of the Society of Real Estate Appraisers (now Appraisal Institute), except "Disclosing an Appraisal's Limitations: An Update" which was published in the Appraisal Journal which is the journal of the Appraisal Institute.


Services

Commercial
Industrial
Recreational
Agricultural
Special Purpose
Condemnation & Litigation

Certifications & Licenses

MAI and SRA designations from Appraisal Institute
Wisconsin General Certified Appraiser, Certificate #1
Wisconsin Licensed Real Estate Broker

Qualified As A Real Estate Expert

Courts: Marathon County (all branches), Cook County (Illinois), Forest County, Langlade County, Lincoln County, Oneida County, Portage County, Sawyer County, Vilas County, Wood County and Federal Bankruptcy in Madison, Eau Claire and Wausau.

Condemnation Commissions: Marathon County, Portage County, Waupaca County, Wood County and La Crosse County.

Assessment Boards of Review: City of Wausau, City of Marshfield, City of Wisconsin Rapids, North Central District State (Wis.) Board (for industrial properties)


American Arbitration Association


Teaching Experience
University of Wisconsin
Michigan State University
California Polytech
University of Florida
Ohio State University
University of Massachusetts
University of Minnesota
University of Oklahoma

Appraisal Institute courses have been taught at the above locations as well as at various locations in northern Wisconsin. Seminars have been taught for the Wisconsin Realtors Association throughout Wisconsin.


Scott Williams has instructed the following courses and seminars
101 AI*
Appraising Real Property
201 AI*
Principles of Property Appraising
202 AI*
Applied Income Property Valuation
1BA AI*
Capitalization Theory and Techniques, Part A
1BB AI*
Capitalization Theory and Techniques, Part B*
* Appraisal Institute
Seminars Taught
Appraising Apartments
Appraising Businesses
Appraising Single Family Residences
Using Gross Rent Multipliers
Appraising Forest Lands
Reading Profit & Loss Statements to Value Businesses
Education
Bachelor of Arts (BA) degree from the New School College (New York City) and attended Dartmouth College (Hanover, New Hampshire). Appraisal education through a wide variety of courses and seminars, primarily from the Appraisal Institute. Specialized training in condemnation and right-of-way appraising from the Appraisal Institute and the International Right-of-Way Association.