Janet Williams, SRA
Appraiser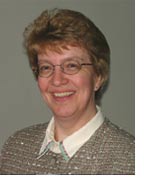 Janet Williams has engaged exclusively in real estate appraisal with Scott Williams Appraisal Inc. since 1975, specializing in single-family residential properties. Assignments include over 20,000 single-family residential property appraisals. Assignments have involved appraisals for banks, a variety of transferee relocation companies, state and federal agencies, private individuals, and corporations.

Appraisals have been completed in various communities in central and north central Wisconsin. Additional experience includes working on appraisals of multi-family, commercial, and industrial properties.
---
Phone: 715-842-3311 Ext. 307
Fax: 715-848-1123
Email: janet@scottwilliamsappraisal.com


Services
Residential
Industrial
Commercial
Land

---

Certifications & Licenses

SRA designation from Appraisal Institute
Wisconsin Residential Certified Appraiser, Certificate #36

Professional Activities - Appraisal Institute

Past president of North Central Wisconsin Chapter of the Appraisal Institute (four terms).
Past director of the Wisconsin Chapter of the Appraisal Institute.

Education

Appraisal education through basic and advanced courses in residential appraising from the Appraisal Institute.
A course on right-of-way appraising was taken from the International Right-of-Way Association.
Seminars have been taken on a wide variety of appraisal topics including income property appraising, narrative report writing and feasibility analysis.