Cherie A. Laffin, MAI
Appraiser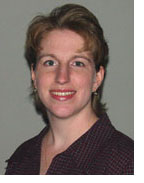 Cherie Laffin has engaged exclusively in real estate appraisal with Scott Williams Appraisal Inc. since 1998. She has been active in both residential and commercial appraising including an extensive knowledge of land sales and land values in Marathon County and subdivision values in central Wisconsin.

Currently, she is primarily involved in appraising commercial properties throughout central and north central Wisconsin. She has also developed a practice in appraising properties for condemnation and litigation.

Assignments have involved appraisals for banks, municipalities, accountants, attorneys, private individuals, and corporations. Experience includes working on appraisals for mortgage loans, lawsuits and condemnation.
---
Phone: 715-842-3311 Ext. 312
Fax: 715-848-1123
Email: cherie@scottwilliamsappraisal.com


Services
Residential
Land
Commercial
Special Purpose
Industrial
Condemnation & Litigation

---

Certifications & Licenses

Wisconsin General Certified Appraiser, Certificate #1181-010

Professional Activities - Appraisal Institute
MAI designation
Education
Bachelor of Science degree in General Studies with a business and economics minor from the University of Wisconsin – Stevens Point, Wisconsin. Courses of study included:

Principles of Finance
Money and Financial Markets
Microeconomic Theory
Buyer Behavior
Marketing Principles
Additional real estate appraisal courses taken include:
110 AI*
Appraisal Principles
120 AI*
Appraisal Procedures
400 AI*
USPAP Update
410 AI*
USPAP A
420 AI*
USPAP A
510 AI*
520 AI*
530 AI*

540 AI*
Advanced Income Capitalization
Highest and Best Use Analysis
Advanced Sales Comparison Approach
Report Writing and Valuation Analysis
* Appraisal Institute